Just for fun, i have implemented position hold. It uses ADNS-5050 as low-cost 5v sensor with simple connection. Lense is from chinese laser pointer (about 9mm focal length).
This mode is always on, but start working only when sticks are in their neutral position - so full manual control is retained.
Sensor:
Test video:
http://www.youtube.com/watch?feature=pl ... dZnxTz1Y_g
Sorry but there are no instructions how to insert this mod into current multiwii code, because there are many dependencies with my other mods. The code is quite simple to do this by your own hands.
UPDATE:
My code based on latest MWC 2.0:
http://code.google.com/p/multiwii-alexm ... akechanges
Position Hold is activated in GPS Hold mode (even if you have not GPS, use this checkbox to switch mode). Works only in LEVEL (STABLE) mode.
ADNS-5050 wiring: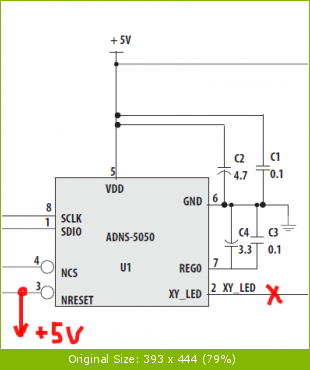 SCLK,SDIO,NCS may be connected to any unused arduino pins (don't forget about +5V, Ground).